Monday, August 27th, 2018
Located only 12 miles from Wilmington, Delaware, Longwood Gardens attracts visitors from around the globe to its 11,000 varieties of plants spread out across more than 1,000+ acres of gardens, meadows, woodlands and elaborate horticultural displays.
Longwood's celebration of the Main Fountain Garden, which returned in 2017 after a $90 million, more than two-year revitalization. Renowned for its spectacular Festival of Fountains, the astonishing shows gather attention from far and wide, and are a favorite among visitors of all ages.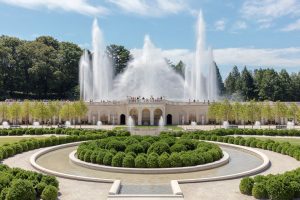 Watch in awe when the fountains dance to stirring music and water jets shoot up to 175 feet high. You don't want to miss Longwood's Illuminated Fountain Performances where you'll see an infinite mix of color, sound and music. The fountains perform daily at 11:15 a.m., 1:15 p.m., 3:15 p.m., 5:15 and extended hours for illuminated fountain performances on Thursday, Friday, and Saturday evenings at 7:15.
In addition, the wildly popular Fireworks & Fountains return with  new shows: September 29 at 8:15 pm: Solid Gold '70s – Take a bell-bottomed step back in time to the disco decade featuring iconic music from The Bee Gees, Kool and the Gang, Donna Summer, and more cool cats you'll really dig. For Tickets:  Fireworks & Fountains 2018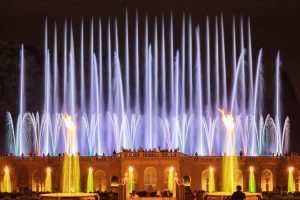 Festival of Fountains also features the Gardens in their summer splendor. The refreshed garden design invites guests to wander and discover new garden gems, including the Grotto, Pumphouse Plaza, and Historic Pumphouse display. Flowering annuals and perennials abound plus a breathtaking Waterlily Display that showcases aquatic plants from all over the world.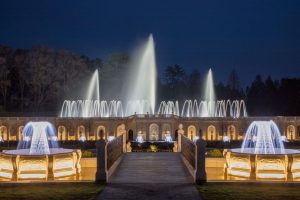 Take a hike in the expansive Meadow Garden or enjoy a shady stroll among Longwood's historic trees. The outdoor Children's Corner offers younger guests a garden designed just for them, while the Idea Garden is a showcase of plant combinations, innovative vegetable gardens, and unusual plant varieties to inspire guests to try at home.
Longwood Gardens allows a limited number of visitors per day, so purchase Tickets in advance to guarantee admission.
Illuminated Fountain Performances continue through October 27 and Daytime Fountain Performances continue through October 28 during Autumn's Colors.
Photo Credit: Daniel Traub
Location: Longwood Gardens, 1001 Longwood Road, Kennett Square, PA 19348
Dates: until – September 30, 2018 (check website for later schedule)
Time: Sun–Wed  9am–6pm, Thurs–Sat 9am–10pm
Tel: 610-388-1000
longwoodgardens.org
For Regional Accommodations, Restaurants & Attractions: visitwilmingtonde.com
Tags: acre, annuals, aquatic. plant, Chester County, children, color, county, Delaware, display, drive i-95, festival, Festival of Fountains, fireworks, Flowering, fountain, garden, globe, Grotto, horticultural, huke, illuminated, jet, Londwood, Longwood Gardens, meadow, music, outdoor, Pennsylvania, perennial, perform, performance, plant, plants, plaza, Pumphouse, revitalization, shady, show, sound, stroll, summer, tree, vegetable, water, Waterlily, Wilmington, woodland, world