Thursday, May 30th, 2019
Strut over to Cote St Luc to catch an over-the-top performance of Cabaret by the Cote St-Luc Dramatic Society. As artistic director, Anisa Cameron remarked, This play is "an important piece which is relevant today."
The plot is based on a novel by Christopher Isherwood and playwright Joe Masteroff's story, and centers around a nightclub, the Kit Kat Klub, in 1930's Berlin. While the fun life reigns inside, the Nazi uprising swirls outside. A performer at the club starts a relationship with an American writer who wants to write a book and has shown up in Berlin looking for a room. The star of the show, though, hands down, is the zealous Master of Ceremonies who commands all the action.
You must get over to see Craig Dalley's performance as this Emcee. His suave, sexy, funny performance and professional stage presence carries the show. It is rare to give a top shout out to a Choreographer, but Alexa Gourd's sensual, evocative, electric choreography allows the strong cast to strut the stage with an air of insouciance – and as precise as if they were on Broadway.
It's fun to see the musicians playing, since even they are having a great time. Benjamin Kwong, Musical Director, is smiling and jiving through the whole show. The score and sound effects are right on. Loved it that John Kovac, playing Herr Schultz (really well!), is back in the theatre after 40 years. It's never too late to return to your passions, and isn't it wonderful that community theatre is here for us – especially one as good as this one.
Producer (and Mayor of CSL) Mitchell Brownstein pointed out that "in the theatre we can learn about people who are different, and that different people count." Also that "we must be vigilant" and that the play "sends out a message of hope in the world if you try to make a difference, and that individuals can make a difference."
He mentioned the Holocaust Education exhibit in the Cote St-Luc library during the play's run. It refers to Righteous Gentiles, diplomats of many countries, who saved countless Jewish lives. The exhibit is a joint effort of the Montreal Holocaust Museum and Israeli Foreign Affairs led by Consul General of Israel for Quebec, David Levy.
Production Manager Jordana Dobski noted that the play (unlike the movie) makes the story of the boarding house owner, Fraulein Schneider, and her relationship to the Jewish fruit vendor a major plot line. Dobski says, this "un-acceptance of the others" is a lesson learned, and should be respected today.
So a shout out goes to teachers and schools out there who are reading this. The Cote St-Luc Dramatic Society is opening their doors during the day on Fridays for Matinees for students to witness and learn from Cabaret (14+ suggested).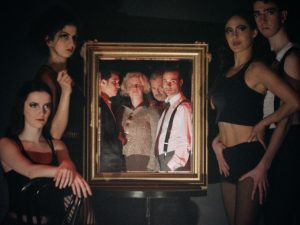 So many lines in the show give warnings about things which are still happening today (think Bill 21?):
"One can no longer dismiss the Nazis" "They will take nothing away." "Why can't they leave as alone?" "Live and let live." "What does politics have to do with us?"
The strong takeaway is that you have to make choices when you see injustice. What would you do?
Location: Cote St-Luc Library, 5801 Cavendish Blvd, Côte Saint-Luc, Harold Greenspon Auditorium
Dates: May 30-June 16
Price: regular admission $35, students and seniors $28