Wednesday, August 15th, 2018
On the night of April 14, 1865, President Abraham Lincoln was shot by the dashing young actor, John Wilkes Booth, at Ford's Theatre in Washington City. While Lincoln lay dying, his assassin was making his escape into Southern Maryland.
Over the next twelve days, Booth and his accomplice, David Herold, were tracked through the lower counties of Maryland and across the Potomac River into Viriginia. They were finally trapped at Garrett's Farm near Bowling Green, Virginia, where Herold was taken prisoner and Booth was shot and killed by federal troops. Herold was hanged along with Mary Surratt on July 7, 1865.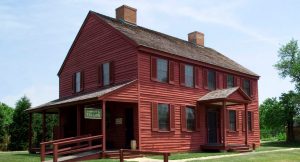 John Wilkes Booth Escape Route Tour – The Surratt Society sponsors tours each fall and spring along Booth's escape route. Many of the same roads and houses used by Booth are still in existence and are visited on this excursion which is narrated by nationally-recognized authorities on the Lincoln assassination and John Wilkes Booth's flight.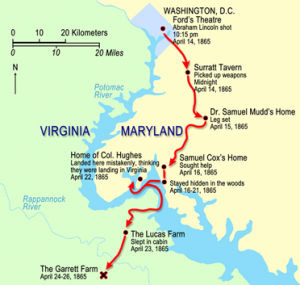 Follow the trail of President Lincoln's assassin from Ford's Theatre in Washington, D.C. to his death near Port Royal,  Virginia. Relax and enjoy the history and scenery on this
12-hour, fully narrated bus tour. The cost is $85 per person ($80 for Surratt Society members). Proceeds go toward the preservation of the Surratt House Museum which was the first stop on Booth's flight south.
To reserve your spot fill out this form.
Location: The Surratt House Museum, 9118 Brandywine Road, Clinton, MD 20735
Dates: Sat, September 8, 15 & 22, 2018
Time: 7 am –7 pm
Tel: 301-868-1121
surrattmuseum.org
For Regional Accommodations, Restaurants & Attractions: visitmaryland.org
Tags: accomplice, actor, assassin, assassination, authority, Bowling Green, bus, city, Clinton, country, D.C., drive i-95, escape, excursion, Fall, farm, Federal, Garrett's Farm, History, house, John Wilkes Booth, Lincoln, Mary Surratt, Maryland, Museum, narrated, nationally, Port Royal, Potomac River, preservation, President, prisoner, river, road, route, scenery, society, southern, sponsor, spring, Surratt House, Surratt House Museum, Theatre, tour, tracked, trail, troop, Virginia, Washington