Friday, May 27th, 2016
If you are heading out to Ottawa to enjoy our nation's capitol, leave some time to explore the Canadian Museum of Nature. It's the perfect place for all ages of the family to enjoy themselves. The brainy kids (or adults) can soak up extensive details about nature while the playful gang can pull levers or turn knobs in a deep sea sub,
learn on many touch screens, or even dance around in front of  the endothermy camera checking out their colorful "hotspots".
Everyone is awed by the the 19.8-metre blue whale skeleton in the Water Gallery but keeping going further in. All the way in the back are many interactive games for young and old alike: make believe areas for the wee ones, a board game along a wall,  animal jigsaw puzzles on touch screens, word games, etc.  
Gawk at the dinosaur fossils or walk amongst the fleshed-out dinosaur creatures for photo ops with kids. In the Vale Earth Gallery swoon over the 1200 gorgeous minerals, rocks and meteorites. Our 5 1/2-year-old couldn't get enough of the joystick which controls a huge earth or the button to start the volcano.
Sure there's a full size mammal gallery but the 11, 8 and 5 1/2 year-olds all stayed longer in the small Nature Live space where they oogled the cases of walking stick bugs in different camouflage colors and thicknesses. How many of you have come face to face with a tarantula? Then they listened intently as a docent showed fossils which were indigenous to Ottawa.
If you have time there are two 3D movies, "Prehistoric Planet 3D and Micro-Monsters 3D" (both too scary for the 5 1/2 -year old) but our gang liked the interactive museum more.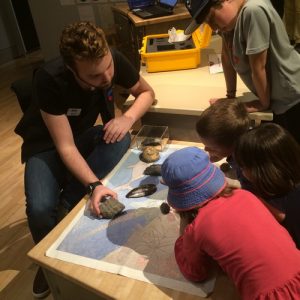 The famous Bird Gallery, with  one of the most extensive collections of Canadian birds in the world re-opened June 1. A special exhibit on now is Ultimate Dinosaurs June 11-September 5 and then upcoming is Reptiles: The Beautiful and the Deadly, October 6-April 2 .
A brand new Arctic Gallery will be unveiled on June 23 which is set to explain how the arctic is changing, including plants, animals and people of the area plus scientific research. Outside, three new ecozones will be shown off on June 17 including a woolly mammoths and an "iceberg".
I'd like to give a thumbs up to the friendly security guards who answered questions informatively and helped to point out nearby bathrooms and water fountains.
Canadian Museum of Nature, a Beaux Arts building, was our first national museum, completed in 1912. Trivia buffs should note that this building  served as home to Canada's House of Commons and Senate following the fire that destroyed the Centre Block of Parliament in 1916.
Location: 240 McLeod St., Ottawa
Phone: 613-364-4021
www.nature.ca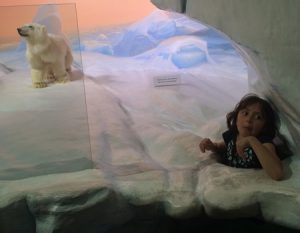 Tags: 3D, adult, animal, Arctic, bathroom, Beaux Arts, bird, block, blue, board, brain, buff, bug, button, camera, Canadian, Canadian Museum of Nature, capitol, Centre, color, Common, creature, dance, dinosaur, earth, ecozone, endothermy, enjoy, explore, family, fire, fossil, fountain, gallery, game, gang, guard, home, house, Iceberg, interactive, jigsaw, joystick, kid, knob, lever, mammal, mammoth, meteorite, mineral, Monster, Museum, nation, national, Nature, old, Ottawa, Parliament, people, photo, planet, plant, play, prehistoric, question, reptile, research, rock, scientific, screen, sea, security, Senate, skeleton, stick, sub, tarantula, thumb, touch, trivia, vale, volcano, walk, water, wee, whale, woolly, word, young