Wednesday, April 4th, 2018
It is no coincidence that this unique event is being held in Fayetteville, close to Fort Bragg, one of the largest military bases in the free world.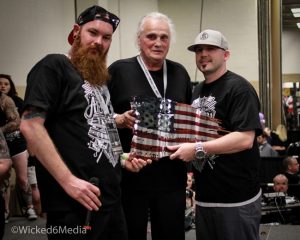 The goal of the All American Tattoo Convention is to give some of the best tattoo artists in the world the opportunity to showcase their talents to some of the bravest heroes in the world, all while raising money to assist soldiers with PTSD, and other combat related injuries, veterans and families of soldiers.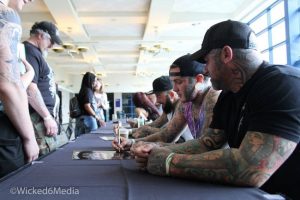 Tattoos and the US armed forces have a history dating back as far as the early 1900's. There are countless inked active duty and war veterans. Tattoos and body art can tell a story that words fail to provide, giving these veterans an outlet to express themselves and show the pride in being a part of something bigger than themselves.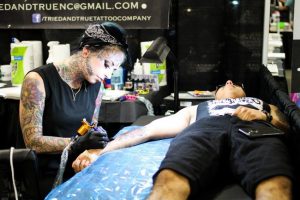 Just a few of the many special events being planned include: Tattoo Contest, All Veteran Parachute Team, Air Born Aerial Performers and Fitness, Emcee Johnny "Awesome" Ivey, Ms. All American Pin-Up Contest and Fayetteville Roller Derby Rogue Rollergirls.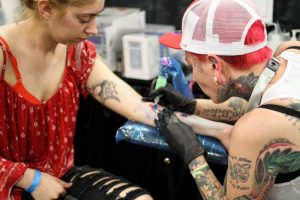 Refer to the website for all artist, vendor and event information.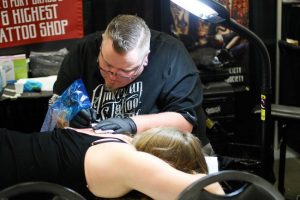 This is just not a Military event, everyone is invited so go out and support our troops while  experiencing all that this three-day convention has to offer. To buy- Tickets
Location: The Crown Complex Expo Center, 131 E. Mountain Dr., Fayetteville, NC 28306
Dates:  April 13-15th, 2018
Times: Fri, Apr 13th, 2pm – 11pm, Sat, Apr 14th, 12pm – 11pm, Sun, Apr 15th, 12pm -8pm
Tel: 910- 850-2566
allamericantattooconvention.com
For Regional Accommodations, Restaurants & Attractions: visitfayettevillenc.com
Tags: active, aerial, airborne, American, armed, armed forces, art, artist, body, combat, contest, convention, drive i-95, duty, emcee, express, family, Fayetteville, fitness, force, Fort Bragg, hero, History, injury, inked, military, North Carolina, outlet, parachute, performer, pin-up, pride, PTSD, Roller Derby, soldier, story, talent, tattoo, team, US, veteran, war, world