Sunday, December 28th, 2014
Walking through the streets of Prague, you will come across the Astronomical Clock. Each hour, the wooden figures of apostles appear in the windows and some of the sculptures move. When the apostles finish their story, the golden rooster crows and shakes its wings, the bell rings and the clock chimes the hour.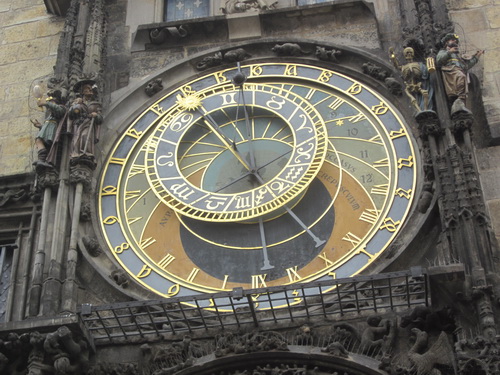 An urban myth which went on for centuries was that when the Prague Councillors found out that the 15th century clock maker Hanus (Jan of Ruze) was going to make another clock, they became jealous and blinded him. However in 1961, the real artist was discovered in an old document which described the astronomical dial and says it was made by Mikulas of Kadan in 1410.
www.cosmos.com/Product.aspx?trip=46050
Tags: apostle, artist, Astronomical, bell, blind, Budapest, chime, clock, Cosmos, councillor, crow, dial, document, figure, golden, Hanus, Jan of Ruze, jealous, Mikulas of Kadan, myth, Prague, ring, rooster, sculpture, tour, urban, Vienna, window, wing, wood