Monday, December 5th, 2016
Last chance to see Heart and Seoul: Growing Up in Korea is a new, cultural exhibit in which five modern-day Korean kids will open their hearts and invite you to take an intimate look into their lives through their diverse interests, customs and ambitions. The traveling exhibition will be in town only until end December at Stepping Stones Museum for Children.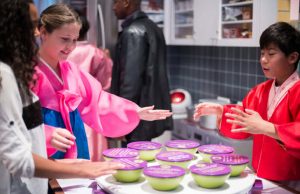 The exhibit, both fun and educational, will use traditional folktales as well as current day personal stories told by Korean children to engage visitors in learning about time-honored cultural values and life in South Korea's highly urbanized and technologically-advanced country.
Children and visitors will be able to explore gallery areas that recreate the settings that characterize the lives of typical South Korean children in Seoul, such as an apartment, classroom, taekwondo studio, and K-pop stage. Throughout the exhibit, these spaces will be embedded with traditional folktales and games to show how values like respect for parents and elders; the importance of scholarship; loyalty to family, friends and community; and hospitality are still an integral facet of 21st century Korean life.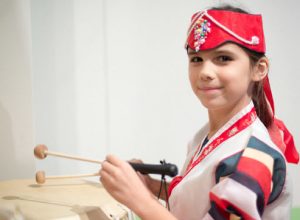 Hands-on experiences include:  an animation studio where visitors can try their hand at stop-motion animation. (The popular television series The Simpsons and Family Guy were created in Korean studios, as was the film Avatar.) Musically inclined kids will take the stage at K-Pop Stars Studio, where they can get on camera and "perform" with popular K-Pop singers. There's a Taekwondo studio, where kids can practice their moves and learn this martial art based on 2,000-year-old ancient techniques.The exhibit also includes a plaza, a restaurant, an apartment, a classroom and a Hanok guest house.
Location: Stepping Stones Museum for Children, Mathews Park,
303 West Ave, Norwalk, CT 06850 |
Dates: til the end of Dec.
Hours: Mon – Sun, 10 – 5 pm
Tel: 203-899-0606
steppingstonesmuseum.org
For Regional Accommodations, Restaurants & Attractions: visitfairfieldcountyct.com
Tags: 21st, ambition., Ancient, animation, apartment, arts, Avatar, camera, century, characterize, children, classroom, community, Connecticut, cultural, culture, custom, eductional, elder, exhibit, exhibition, experience, explore, family, Family Guy, film, folktale, friend, fun, gallery, game, guest, hands-on, hanok, heart, heart. life, honor, hospitality, interest, K-pop, kid, kids, Korean, learn, life, loyalty, marial, motion The Simpsons, Museum, musically, Norwalk, parent, perform, personal, plaza, practice, recreate, respect, Restaurant, room, scholarship, Seoul, series, setting, singer, South Korea, stage, Stepping Stones Museum, story, studio, taekwondo, technique, technology, television, traditional, traveling, urban, value