Wednesday, September 27th, 2017
The 10th Annual Eastern Carolina BBQ Throwdown is a professional cooking competition based on KCBS categories (chicken, pork ribs, pork & beef brisket). Awards include Grand Champion, Reserved Grand Champion, and People's Choice Award. Cash awards, trophies and plaques awarded up to 10th place in each category. There will be 58 opportunities to win.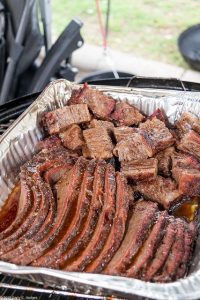 The Friday night Kick Off Party includes a Kick Off Concert featuring Who's Bad- The Ultimate Michael Jackson tribute band  held in downtown Rocky Mount. KCBS representatives will be present and competition judging starts at noon on Saturday, October 14, using the blind judging technique. This is a party you don't want to miss, with plenty of delicious food, beverages, and great entertainment. Bring your lawn chairs or blankets and come have some fun.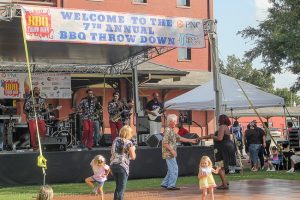 Schedule of Events:

Friday & Saturday, October 13-14, 2017
10th annual Eastern Carolina BBQ Throw Down (Competition)
Includes: People Choice
Friday, October 13th (12pm – 8:30 pm)
BBQ Kick Off Party (Train Station Lawn) 5:00 pm – 8:30 pm
Who's Bad Michael Jackson tribute band 6:30 pm (Train Station Lawn)
Saturday, October 14th (10:00 am – 6 pm)
Food Vendors, Commercial Vendors, Exhibitors, Live Music
Location: 101 Coastline St, Downtown Rocky Mount,NC  27804 – in front of the Helen P. Gay Historic Rocky Mount Train Station
Date & Time: Fri, Oct. 13 – Sat, Oct. 14, 2017
Time: Fri 12 pm – 8 pm, Sat 10 am – 6 pm
Tel: 252-972-1159
downtownrockymount.com/events/eastern-carolina-bbq-throwdown
For Regional Accommodations, Restaurants & Attractions: rockymounttravel.com
Tags: annual, award, band, BBQ, beef, beef brisket, beverage, blanket, blind, brisket, Carolina, cash, category, chair, champion, chicken, commercial, competition, concert, cooking, downtown, drive i-95, eastern, Eastern Carolina BBQ Throwdown, entertainment, exhibitor, food, fun, judge, judging, kick off, lawn, live, Michael Jackson, music, North Carolina, party, People's Choice, plaque, pork, pork ribs, prize, professional, representative, ribs, Rocky Mount, technique, throwdown, tribute, trophy, vendor